Last month, 98 year old Keiko Fukuda was awarded judo's highest honor: the 10th degree black belt. She is only the 4th person in history, and the first woman, to reach this level.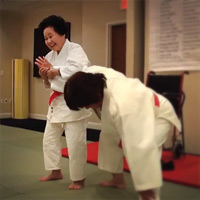 She is the last surviving student of Dr. Kano, the founder of Judo, and still teaches three times a week at her Noe Valley studio, Soko Joshi Judo Club, in San Francisco. Her motto is "Be gentle, kind, and beautiful, yet firm and strong, both mentally and physically."
In 1934 Keiko Fukuda was preparing for marriage, like most young women in Japan. Then she met Kanō Jigorō (the founder of judo) and radically altered her life path. She gave up marriage, family, and her home-land to pursue her life destiny.
A documentary film by San Francisco-based
Flying Carp Productions titled Mrs. Judo: Be Strong, Be Gentle, Be Beautiful, by director Yuriko Gamo Romer, about Fukuda's inspirational life is currently in post production and scheduled for release in early 2012.
Update: There is now a Kickstarter campaign to help fund the finishing of the movie!
via the San Francisco Chronicle