In this followup film to Caine's Arcade, the Imagination Foundation is announcing the launch of the first ever Global Cardboard Challenge, inviting the world to play while raising funds to foster creativity and entrepreneurship in kids.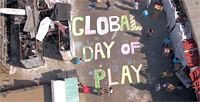 The Global Cardboard Challenge is the next chapter of a global movement growing out of the short film Caine's Arcade, which shared the inspiring story of 9-year-old Caine Monroy's cardboard arcade with the world.

On October 6th, the one year anniversary of the flashmob of surprise customers in "Caine's Arcade", hundreds of Cardboard Challenge events around the world will celebrate creativity, imagination, and community.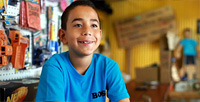 There are over 150 event organizers in 25 countries who have already signed up. You can get involved by hosting your own event or attending one near you.
Have fun on October 6th!