As a follow up to his previous piece called The Mountain (featured in a previous post) Terje Sørgjerd has released another amazing time-lapse video called The Arctic Light.
My favorite natural phenomenon is one I do not even know the name of, even after talking to meteorologists and astrophysicists I am none the wiser. What I am talking about I have decided to call The Arctic Light and it is a natural phenomenon occurring 2-4 weeks before you can see the Midnight Sun.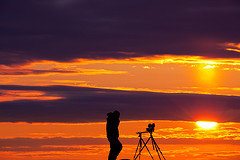 This video was shot between April 29th and May 10th on the Lofoten archipelago in Nordland, Norway. It was a difficult shoot: he fell into the Arctic sea twice, broke lenses, filters, a tripod, computer and lost the whole dolly rig and controller into the sea. And after falling off "a rather tall rock" he even ended up in the hospital.
As much as I wanted to give up, the best way Out is always "Through". I am glad I stuck it through though because there were some amazing sunrises waiting.
We're also glad he didn't give up and was able to capture this amazing footage!
via Vimeo