Prince Ea reminds us that labels are not you, and labels are not me.
As a follow up to his previous piece called The Mountain (featured in a previous post) Terje Sørgjerd has released another amazing time-lapse video called The Arctic Light.
My favorite natural phenomenon is one I do not even know the name of, even after talking to meteorologists and astrophysicists I am none the wiser. What I am talking about I have decided to call The Arctic Light and it is a natural phenomenon occurring 2-4 weeks before you can see the Midnight Sun.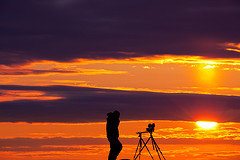 This video was shot between April 29th and May 10th on the Lofoten archipelago in Nordland, Norway. It was a difficult shoot: he fell into the Arctic sea twice, broke lenses, filters, a tripod, computer and lost the whole dolly rig and controller into the sea. And after falling off "a rather tall rock" he even ended up in the hospital.
As much as I wanted to give up, the best way Out is always "Through". I am glad I stuck it through though because there were some amazing sunrises waiting.
We're also glad he didn't give up and was able to capture this amazing footage!
via Vimeo
Nick Bertke, aka Pogo, is a music producer/re-mixer from Perth, Western Australia on a mission to remix the world.
Joburg Jam, filmed around Johannesburg, South Africa, is a delightfully uplifting song and his first in a series of cultural remixes from around the world.
The goal of my project is to travel the world capturing sights, sounds, voices and chords, and use them to compose and shoot a track and video for each major culture of the world. It will be funded solely by you the listener, and will be released worldwide on CD, DVD, and on my website PogoMix.net. I am deeply inspired by the films Baraka and Koyaanisqatsi, and hope to produce the best cinematography and music I humanely can throughout each project.
The successful funding of his Kickstarter campaign has allowed him to start on the second track, Tibet. Nick has just returned from Bhutan after spending most of May there and we'll hopefully get to hear and see the new track soon!

Update: Here's his mix from Bhutan!
via YouTube & Kickstarter