Mother/daughter filmmakers Gail Mooney and Erin Kelly circled the globe on a 99-day journey to six continents, shooting a film about people who are making a positive difference in the world.
Our trip was the journey of a lifetime. Not only did we witness the power of the individual and what one can do to "make a difference," but we experienced this together. In the process of making this film and this journey, we learned about each other as the people we are – not just as a mother or a daughter. We formed a bond that will last a lifetime, and that in itself was perhaps the most rewarding part of the journey.

Our ultimate goal for the film is that it is seen by as many people as possible in the hopes that they too will be inspired and motivated to create positive change in their own communities.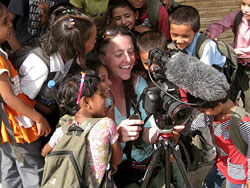 Their film was successfully funded earlier this year via a Kickstarter Campaign. They are currently in post-production and anxiously awaiting the first rough cut from their editor.
You can learn more about the project and follow their progress on the film via their website OpeningOurEyes.net and Twitter @mooneykelly.
Their initial inspiration for the film came from the story of Maggie Doyne, who after her senior year of high school, as her friends headed to college, took a year off to travel the world. Shocked by conditions she found the orphans of war-torn Nepal living in, she used her entire savings ($5,000 she earned babysitting in high school) to buy land in Nepal and began work on a shelter for orphans, now called the Kopila Valley Children's Home and housing 40 children. She has also gone on to create the Kopila Valley Primary School, providing education health care and a daily nutritious meal to 230 children.
I knew I couldn't do anything about a million orphans, but what if I started with this girl? It became addictive. I said, if I can help one girl, why not 5? Why not 10?
via Kickstarter and The New York Times