As the title suggests, this really is one happy dog! This video was originally uploaded to Dogwork.com, a site dedicated to "enjoying life with our pets" and to "promote animal adoptions and animal welfare."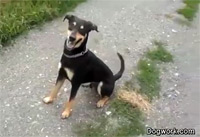 They suggest living your life with the philosophy of a dog will lead to a better and happier life. After watching that video, we'd have to agree. Here's some "dog philosophy" they share that we fully agree with:
Open your heart to the ones you love.
Be loyal, you will keep friends for life.
Be yourself and you will always have true friends.
Allow people to love you.
Celebrate if you feel like it.
What dog-like philosophy do you live by?