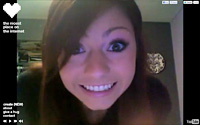 Need a hug? Well The Nicest Place on the Internet has you covered. Creators Lauren Perlow and Jeff Lam came up with the idea after having "one of those days" at work. They took to the streets of San Francisco one weekend with a camera and a tripod and filmed the first batch of videos.
What we craved was something honest and good, unhappiness-offsetting, fail-proof and grin-inducing.

Lauren Perlow & Jeff Lam, co-creators
Since launching last November they've received hug video submissions from around the world from places like Argentina, the Baltic Sea, Moscow, Brazil and Jakarta. And their videos have now received over 5 million views.
The site even has a feature that lets you create your own personalized "love mixtape" to send to loved ones by simply entering a list of YouTube video IDs you want to include.
Magical, simply magical.
via Grace Kim (@grace_k)