Prince Ea reminds us that labels are not you, and labels are not me.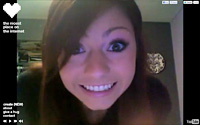 Need a hug? Well The Nicest Place on the Internet has you covered. Creators Lauren Perlow and Jeff Lam came up with the idea after having "one of those days" at work. They took to the streets of San Francisco one weekend with a camera and a tripod and filmed the first batch of videos.
What we craved was something honest and good, unhappiness-offsetting, fail-proof and grin-inducing.

Lauren Perlow & Jeff Lam, co-creators
Since launching last November they've received hug video submissions from around the world from places like Argentina, the Baltic Sea, Moscow, Brazil and Jakarta. And their videos have now received over 5 million views.
The site even has a feature that lets you create your own personalized "love mixtape" to send to loved ones by simply entering a list of YouTube video IDs you want to include.
Magical, simply magical.
via Grace Kim (@grace_k)
Jared Paul left a career in the corporate world to use his skills of building relationships to create some positive change in the world and to help people in need. In June 2008 he founded A Good Idea in San Francisco and has since expanded to open a second chapter in New Jersey.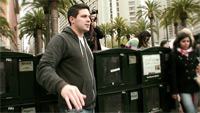 A Good Idea is a vehicle for positive social change ideas that connect people in need with people who want to help to alleviate homelessness and poverty. We build these connections for positive social change through service, education, and technology.
One of their most ambitious and inspirational proposed projects is to create a full-scale accredited residential charter high-school for homeless teens called Hope Academy of Arts & Sciences (HAAS), which would be the first of its kind in San Francisco.
"You never know what one little act… how that can effect the rest of a person's day [or] the rest of a person's life." So, what's your Good Idea?