Prince Ea reminds us that labels are not you, and labels are not me.
How's your new year going so far? Need a little boost of encouragement? Maybe you need a pep talk from Kid President!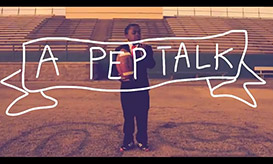 What will you create that will make the world awesome? Nothing if you keep sitting there. That's why I'm talking to you today. This is your time. This is my time. It's our time.

You can make everyday better for each other. If we are all on the same team let's start acting like it. We got work to do. We can cry about it or we can dance about it. We were made to be awesome.

Kid President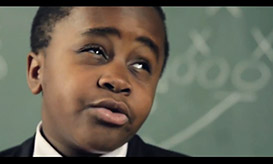 This YouTube video features Robby Novak (aka Kid President) and was produced by SoulPancake. Founded in 2008 by actor Rainn Wilson, SoulPancake "develops thought-provoking content and creative engagement opportunities that encourage people to explore what it means to be human."
So, are you encouraged now? Did that inspirational video help to get your thoughts provoked? Then don't just sit there… get dancing!
The world needs you, stop being boring. … Create something that will make the world awesome.

Kid President
via Devour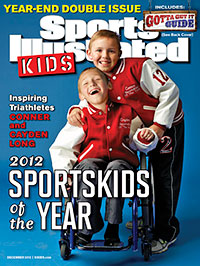 Cayden Long, age 7, suffers from cerebral palsy, but his older brother Conner, age 9, doesn't let that stop them from playing sports together.
They participated in their first triathlon as "Team Long Brothers" on June 5th, 2011 and over the last 18 months have competed in 14 races. Conner tows Cayden in a raft while swimming, pulls him in a trailer for cycling and pushes the trailer during the run.

Ten years from now the perfect place for me and Cayden would be… [to] have the Team Long Brothers flag on the moon.

Conner Long
The brothers were honored as 2012 SportsKids of the Year at a star-studded event in New York as part of the Sports Illustrated Sportsman of the Year ceremony. There, they made a special new friend… LeBron James!
Parents Jenny and Jeff Long are also working on starting the Team Long Brothers Foundation:
Our ultimate goal of Team Long Brothers is to form a non-profit organization which will provide advice, emotional, spiritual and financial support to groups and families of disabled children. We hope you will consider helping us get the Team Long Brothers Foundation off the ground by considering a donation. Our goal is to apply for official non-profit status by the first quarter of 2013.
photo source: SI Kids