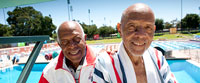 Every two years, more than 12,000 athletes across the country compete in the National Senior Olympics. The Documentary Foundation film Age of Champions tells the inspiring story of four athletes — a 100-year-old tennis champion, 86-year-old pole vaulter, pair of swimming brothers, and team of basketball grandmothers.
The film captures the triumphant spirit of these competitors as they tackle the challenges of old age with grace, humor and optimism. Win or lose, they inspire us all to follow our dreams and find purpose at any stage of life.
The film has been accepted into the 2011 Silverdocs Film Festival in Washington, DC, and they are currently raising funds via a Kickstarter campaign to cover the costs of "Color and sound post-production work for the film" and "Digital transfer to an HDCam tape for delivery to the festival".
via Kickstarter