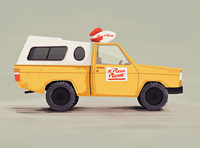 A group of Orange County college students who are huge Pixar fans created a working replica of the Pizza Planet truck that has appeared in every Pixar feature film except for The Incredibles. Pixar found out about their project and invited them, and the truck, to visit Pixar's Emeryville, CA studio.
We are a rag-tag team of artist, film students and movie buffs determined to complete our dream; visit Pixar.

After countless hours of research and labor, we have built a real-life working replica of Pixar's iconic Pizza Planet truck. Armed with a few cameras, some maps and fair amount of gas money, we hope to make new friends and have some fun adventures as we embark on a road trip up the coast.
They were even able to grab the "RES1536" license plate that the car has in the films from the California DMV. You can learn more about their awesome project and recent studio visit on their website: The Road To Pixar.
via a The Positive Day reader tip. Thanks!