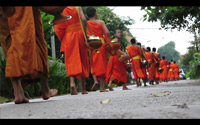 On October 10th, 2010, thousands of people from every country in the world (190 of them) documented their day and "contributed their voice to the largest participatory media event in history."
The ambitious One Day on Earth project was started in Sept 2008 by Kyle Ruddick with the goal of creating a global media event capturing the diversity of the human experience in a single 24 hour period. After two years of grassroots efforts a date was finally set and on 10/10/10 over 3,000 hours of footage was captured from every corner on the planet.
We follow characters and events that evolve throughout the day, interspersed with expansive global montages that explore the progression of life from birth, to death, to birth again. In the end, despite unprecedented challenges and tragedies throughout the world, we are reminded that every day we are alive there is hope and a choice to see a better future together.
One Day on Earth is funded by donations and volunteers and they are currently raising funds via a Kickstarter campaign help get through editing (a herculean effort to be sure!) and securing distribution.
You can also explore an amazing interactive map of all the raw videos shot (over 4,000!) for the project.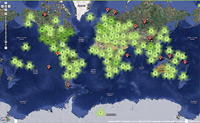 Plans are already underway for the next filming project day scheduled for November 11th, 2011 (11/11/11).
via Vimeo and Kickstarter