Cayden Long, age 7, suffers from cerebral palsy, but his older brother Conner, age 9, doesn't let that stop them from playing sports together.
They participated in their first triathlon as "Team Long Brothers" on June 5th, 2011 and over the last 18 months have competed in 14 races. Conner tows Cayden in a raft while swimming, pulls him in a trailer for cycling and pushes the trailer during the run.

Ten years from now the perfect place for me and Cayden would be… [to] have the Team Long Brothers flag on the moon.

– Conner Long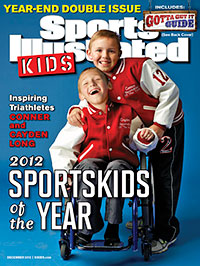 The brothers were honored as 2012 SportsKids of the Year at a star-studded event in New York as part of the Sports Illustrated Sportsman of the Year ceremony.
Parents Jenny and Jeff Long are working on starting the Team Long Brothers Foundation:
"Our ultimate goal of Team Long Brothers is to form a non-profit organization which will provide advice, emotional, spiritual and financial support to groups and families of disabled children. We hope you will consider helping us get the Team Long Brothers Foundation off the ground by considering a donation. Our goal is to apply for official non-profit status by the first quarter of 2013."